Exercise consultations
We know there are many reasons for joining a gym. Maybe you're new to the gym scene, you're an avid lifter, or you've been on a long exercise hiatus. Don't worry – when you meet with our friendly and super knowledgeable team, your specific needs and goals will be central to the exercise programme and pathway they recommend.
Free consultation when you join
All new members are entitled to a free consultation.
You can also buy extra exercise consultations as you progress, or when your goals change. If you need an extra helping hand when you join the gym, an Induction Package is a good option to help you feel confident and safe in our gym environment.
What to expect during your consultation
Find out what happens during a consultation.
New member consultation
As soon as you join, we recommend you book a free new member consultation.
This is your chance to talk with a fitness instructor about what you want to achieve, your health history and your starting level of fitness. We'll give you a programme and take you through the exercises step by step. You'll learn correct form and technique, how to use the equipment correctly, and how to know when it's time to progress.
Exercise consultation
Level up your training with a personalised fitness programme. You'll meet with one of our fitness instructors to discuss your goals and to assess your current level of ability – fitness and/or strength testing may be required to ensure your programme is tailored for maximum results
Then we'll take you through the exercises and equipment you'll need.
No matter what you're training for and no matter your level of training, an exercise consultation is a great option for anyone with a goal in mind.
Book a consultation
To book a consultation, see one of our gym staff or contact us.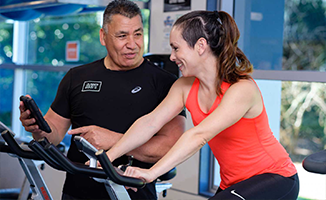 Prices
New member consultation: free
Exercise consultation: $40
AUT student discount: 20% off